Art Exhibition

CREATIVE
WORKFORCE
FELLOWSHIP


October 23 -
November 27,
2011*

* When, exactly?
PLEASE JOIN US FOR AN OPENING RECEPTION WITH THE ARTISTS
SUNDAY, SEPTEMBER 11
1:00 - 4:00 PM
FREE AND OPEN TO THE PUBLIC
William Brouillard

---
Laura Cooperman

---
Stephanie Craig

---
Matthew Hollern

---
Michel Ina

---
Brian Andrew Jasinski

---
Kasumi

---
Michael Loderstedt

---
Paul O'Keeffe

---
MIchael Romanik

---
Sai Sinbondit

---
Mark Slankard

---
Randall Tiedman

---
Douglas Max Utter

---
Jonathan Wayne

---
Roberta Williamson

---
Brent Kee Young

---
Stephen Yusko

---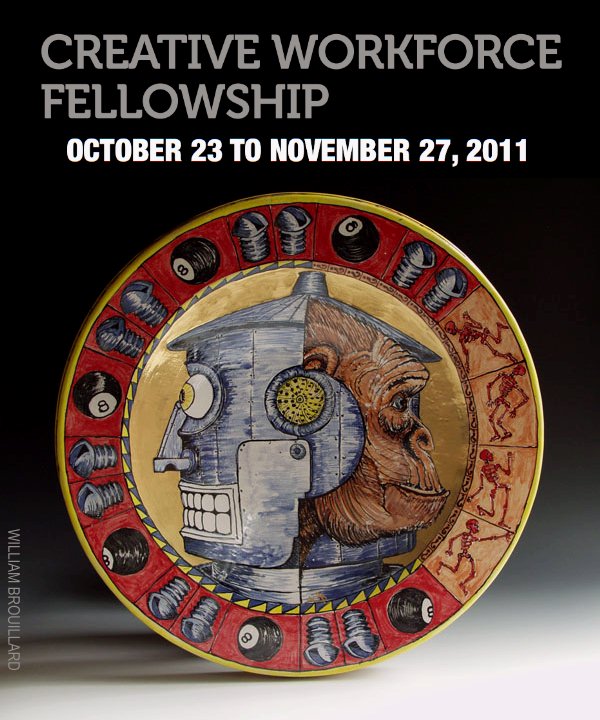 Every day, artists are investing in the future of Northeast Ohio. To help maintain and grow these efforts, the Community Partnership for Arts and Culture (CPAC), with the support of Cuyahoga Arts and Culture, has invested in greater Cleveland's leading artists through the Creative Workforce Fellowship program.

These individuals were selected among hundreds of artists in Cuyahoga County to receive a $20,000 financial award; membership in the Council of Smaller Enterprises (COSE) Arts Network; a full tuition waiver for CPAC's Artist as an Entrepreneur Institute; and inclusion in a publication of Fellows' work.

These artists have proven themselves as integral partners in sharing and shaping the story of this region. They push boundaries with their passion, vision, and skill. They provoke thought and understanding within the community. Collectively, they are spearheading a movement to make Northern Ohio a more vibrant and united community.

With awareness of cultural diversity and the positive values of artistic regionalism, the Sandusky Cultural Center provides educational and entertaining exhibits that stimulate an interest in the fine arts, provide a focus for multicultural awareness, and introduce complex issues and challenging concepts.