Around the first century A. D., the Chinese invented paper. For the first several hundred years it probably remained precious and rather scarce, but by the T'ang Dynasty (D. D. 618-906) papercuts are the subject of a poem by Ts'ui Tao-yung and from other sources of this period they are described decorating plants and food and worn by ladies in their hair. By this time the use of papercuts was widespread and the subjects included animals, birds, flowers as well as mythological, historical and theatrical characters and symbols from Buddhist and Taoist religions.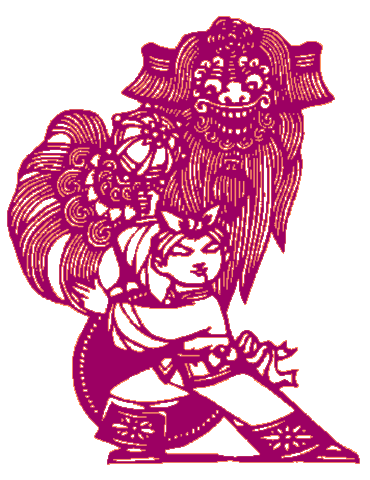 Until thirty or forty years ago the majority of windows in China were still made of paper. These windows were often replaced at the New Year and decorated with the most popular form of papercut, "window flowers." Although windows were the most effective place for them, papercuts also hung from the lintels of doorways, decorated walls, ceilings and pillars, as well as embellished smaller objects such as candles, furniture, gift boxes, and mirrors. Some papercuts are done with scissors, others with small, sharp knives; most of them are still made by peasants and folk artists.
Particularly in the earlier twentieth century traditional folk crafts declined, but more recently there has been a revival of interest particularly in papercuts. In 1940 the Lu Hsun Art Academy in Yenan drew attention to the beauty and skill of the papercuts it had collected from the northwest provinces. Members of the Academy and the Peking Central Institute of Fine Art succeeded in mastering the craft and bringing to it new themes. The government also came to the rescue, and the most gifted of the surviving folk artists were employed as teachers. Graphic artists both in China and abroad have come to appreciate the strong negative/positive design qualities of the technique and to learn from it.
Hal and Joanna Retzler have collected a large and impressive group of traditional and modern papercuts during their numerous trips in China. The Cultural Center is pleased to be able to present them as the first exhibit of the 2007 - 2008 season. The Retzlers will be available at the opening reception to answer questions and talk about their China experiences. Most works in the collection will be for sale at very modest prices.
With awareness of cultural diversity and the positive values of artistic regionalism, the Sandusky Cultural Center provides educational and entertaining exhibits that stimulate an interest in the fine arts, provide a focus for multicultural awareness, and introduce complex issues and challenging concepts.