SHARING MYTHS
CONTEMPORARY ART FROM THE FIRST PEOPLES OF THE NORTHWEST COAST

In Residence May 13 -18, 2007

RANDY STIGLITZ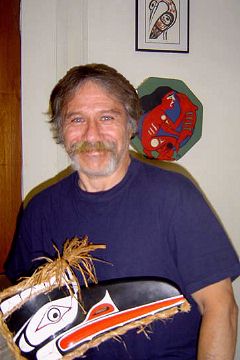 Randy Stiglitz was born on August 17th 1953, Lesquiti Island, BC., to a German mother and a Coast Salish father. Randy's family moved to the Capilano Indian Reserve at the age of eight and he began carving at the age of 15 under the guidance of local artists. Randy credits the legendary Henry Hunt Sr. as being the single biggest influence in his unique carving style. Randy has now been carving for 38 years and is widely regarded as one of a handful of elite Coast Salish artists. His artwork is in the highest demand by top galleries throughout North America including the Quintana and Inuit Galleries. His artwork is on permanent exhibit in the Bill Gates Microsoft Collection. As well as being a published artist, Randy takes great pride in having his artwork in the collections of actors Gene Hackman and Goldie Hawn/Kurt Russell. He continues to explore the carving traditions of both Salish, Kwakiutl and Tlingit cultures in tandem with his wife Janice Morin, who is herself a highly accomplished Coast Salish artist.

Randy will be working in residency at the Sandusky Cultural center along with Janice Morin and James Michels from Sunday, May 13 through Friday, May 18.


With awareness of cultural diversity and the positive values of artistic regionalism, the Sandusky Cultural Center provides educational and entertaining exhibits that stimulate an interest in the fine arts, provide a focus for multicultural awareness, and introduce complex issues and challenging concepts.