SANDUSKY CULTURAL CENTER Presents:
COLLAGE
April 10 - May 15, 2005 *


Rober Colgan - JACK THE GIANT KILLER

KEN ARTHUR
DIANE CHEVALIER
BARBARA CHIRA
ROBERT COLGAN
MINDY WILSON DUNCAN
JONATHAN GOTT
LEWIS KARBLER
SANDY MILLER
MARGE WIDMAR
CHRIS ZAHNER




Chris Zahner - GANDER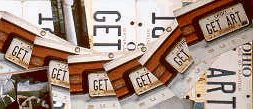 Marge Widmar - GET ART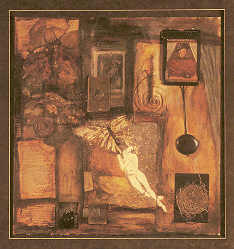 Mindy Wilson Duncan - UNTITLED




Ken Arthur - UNTITLED


col-lage \ke- lazh\ n [ F, lit., gluing] : an artistic composition of fragments (as of printed matter) pasted on a surface

as-sem-blage \e- sem-blij\ n : an artistic composition made from scraps, junk, and odds and ends

mon-tage \man- tazh\ n [F] : an artistic composition made up of several different kinds of elements, esp. photographs

IT IS CLEAR FROM THEIR DEFINITIONS THAT THE LINES BETWEEN THESE THREE TWENTIETH CENTURY CATEGORIES OF ASSEMBLED ART ARE AT BEST VERY FUZZY. IT SEEMS CONVENIENT AT THE BEGINNING OF THE TWENTY-FIRST CENTURY TO INCLUDE ALL OF THEM UNDER THE MOST GENERAL TERM COLLAGE. THE TEN ARTISTS EXHIBIT WIDELY VARYING APPROACHES TO ASSEMBLED ART.

PLEASE JOIN US FOR THE PUBLIC RECEPTION HONORING THEM AND THEIR WORK ON SUNDAY, APRIL 10 FROM 1:00 UNTIL 4:00 PM.

*During this event, the gallery is open Sunday through Friday from 1:00 until 4:00 PM, and CLOSED each saturday. Please check the hours page for additional information.

With awareness of cultural diversity and the positive values of artistic regionalism, the Sandusky Cultural Center provides educational and entertaining exhibits that stimulate an interest in the fine arts, provide a focus for multicultural awareness, and introduce complex issues and challenging concepts.