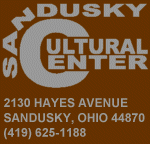 THE SANDUSKY CULTURAL CENTER GALLERY PRESENTS

Emerging Artists:
Six from The Cleveland Institute of Art


September 12 - October 17 2004



Colin Angle
Kevin Czapiewski
Jonathan D. Gott
Alexander S. Martin
Justin Martin
Matt Schaffer


Established in 1882, the
Cleveland Institute of Art
(CIA) is a growing independent, five-year college that has earned a reputation for being among the top 10 professional colleges of art and design in the country.
The exhibition opens with a public reception with the artists on Sunday, September 12, from 1:00 until 4:00 P.M. and continues at the usual hours through Sunday, October 17.

Directions to Sandusky Cultural Center
With awareness of cultural diversity and the positive values of artistic regionalism, the Sandusky Cultural Center provides educational and entertaining exhibits that stimulate an interest in the fine arts, provide a focus for multicultural awareness, and introduce complex issues and challenging concepts.