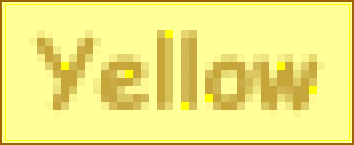 January 4 - February 8, 2004
Richard Carlson - Paintings
Darlys Ewoldt - Raised Copper Sculptural Container Forms
Jonathan D. Gott - Assemblages and Paintings
Barbara and Joshua Haplea - Mixed Metals Jewelry
Nina Vivian Huryn - Mixed Media
Eric Janssen - Acrylic Candleholders
Susan Lenart Kazmer - Mixed Media Jewelry
Pat Krebs - Fiber
Tom Marino - Porcelain
Mark Matthews - Glass Spheres
Charles T. Mayer - Polymer Clay Puzzles and Pins
Karen Shaylor - Graphics
Carole Stolte - Baskets
Mark J. Sudduth - Blown Glass
Mark Yasenchack - Ceramics
click for images of selected works by the above artists
The Sandusky Cultural Center begins the new year with the richness of gold and the warmth of the sun, in the third of an annual series of "color exhibits". Fifteen artists, working in a variety of media, interpret the color yellow in all its variations: butter to amber, and connotations: cheerfulness to cowardliness.
The use of yellow pigment from clay and goethite dates to the wall paintings in the cave\ of Lascaux 17,000 B.C., and was used in ancient Egypt for the hieroglyph for "woman". As the color of both Venus' and Judas' robes, as well as that of the flags used to designate areas of plague and of the stars used to discriminate against Jews, yellow has a complex history. Even today, it invokes a gamut of emotion and meaning.
Come chase away the winter blahs with an experience of brilliant color. Our artists include locals Jonathan D. Gott, Barbara and Josh Haplea, Pat Krebs, Charles t. Mayer, and Karen Shaylor. Many objects will be for sale. The exhibit runs from January 4 through February 8. There will be a reception for the artists and the public Sunday, January 4 from 1:00 to 4:00 p.m.
Coinciding with Yellow, the Student Gallery at Sandusky Cultural Center, Off Center, heralds the Year of the Monkey, officially beginning January 22, 2004. Monkey items from private local collections will be displayed, along with an explanation of this phase of the Chinese calendar Year 4701.
The Sandusky Cultural Center is open to the public free of charge during scheduled hours. We welcome local organizations and school groups for guided tours, workshops or as a meeting space, and arrangements can be made by calling the gallery attendant at 419-625-1188 during regular gallery hours. The Center is located at 2130 Hayes Avenue, Sandusky, Ohio, at the rear of Sandusky High School, adjacent to the Planetarium.

With awareness of cultural diversity and the positive values of artistic regionalism, the Sandusky Cultural Center provides educational and entertaining exhibits that stimulate an interest in the fine arts, provide a focus for multicultural awareness, and introduce complex issues and challenging concepts.